For the past few weeks I have been planning and executing the design for my new banner artwork, which you should now see displayed on the site.* I always knew that the painting on the old site would be a temporary image as, although I am very proud of the work, it doesn't really relate to what the blog is about. So, when I knew I would be changing to a self-hosted site, I started thinking about the kind of image and text I wanted to represent me and the blog.
I was also very keen that I should design and paint the banner myself. Firstly, because I can't afford to employ a designer – but mainly because I really enjoy painting and an image created by me would be more personal too. Here is a little summary of my process and the thoughts behind the final image.
I wanted a simple image and colour scheme with a white background. At first I experimented with images to represent each of my children but I couldn't find an idea that I was happy with and I found everything I tried seemed to be too cluttered. In the end I chose an image of a mother and child but tried to keep the child fairly gender neutral. My daughter has a very cute curl as her hair is growing but my son had a similar kink when he was a similar age – so I intended the child to represent both of them. I also think the age of the child is quite flexible – he or she could be a baby still but similarly they could be an older pre-school child.
I must admit, the image of the mother is a bit of an idealised version of me. I have a lot of hair and usually keep it very long but that is about where the similarity ends! Once I had decidided on the image I wanted and researched some ideas by looking at similar styles of figures, I was ready to start drawing and painting.
I knew I would be using acrylic paints – my favourite paint to work with is watercolour but I wanted something bolder than that, and I find oils less versatile due to drying times. Here are some images of the stages of the work: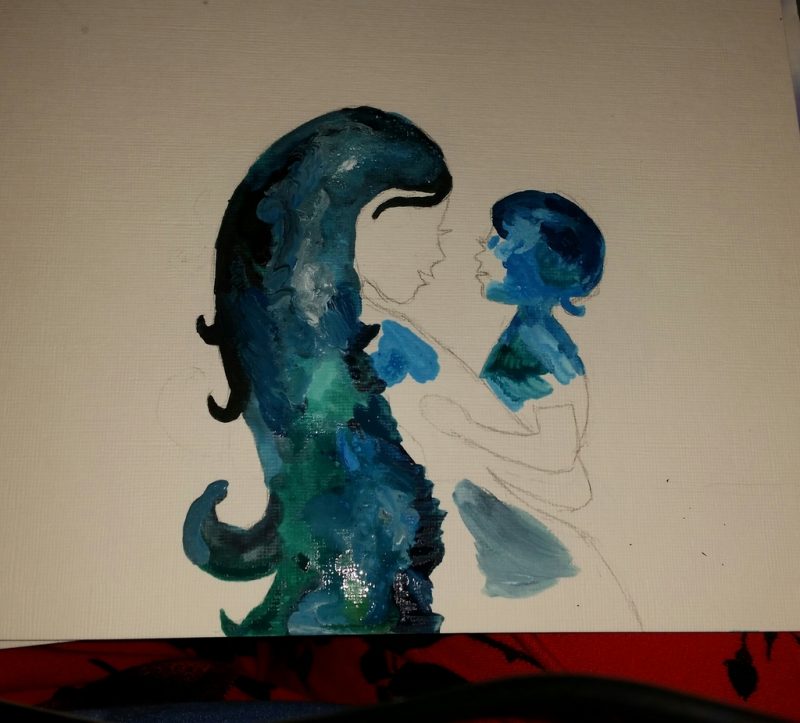 Note: Old formula bottles make excellent paint pots once you no longer need them!
For the text, I simply took a cross section of the colours in the painting. I wanted to keep the colours to a minimum, but still create something where the colour was striking, so I chose a palette of blues, greens and teals. From the beginning, I knew I wanted the colours to 'bleed' into one another on my design. This is another reason why acrylics were my choice – they can generate very bold colour while still blending and bleeding between colours.
And so here it is, the final piece:
Let me know what you think!