Biggest will be starting school in September and so we have been doing a few activities to help him get to grips with the very basics of telling the time. Although he can count well, Biggest is very used to visual cues and timetables to help him navigate the day. Understanding the amount of time that needs to pass, and waiting for things, are both issues that are very likely to cause meltdowns. Biggest loves rules and predictable experiences. Therefore, we are hoping that he will be able to enjoy beginning to recognise the basic twelve hour clock. We were recently gifted some beautiful Ice-Watch Watches and so we have used that opportunity to share some activities and tips for teaching children to tell the time. Find out more about the watches we chose below.
Tips for Teaching Children to Tell the Time
#1 Start with the Basics
Before children are introduced to numerical time, learning about general times of the day can be a good place to start. Visual timetables are great for this. As a special needs household, we have used visual timetables a lot but they can be really helpful for all children, in a wide age-range. They also have the added bonus of helping your child develop self-care and personal skills.
They can also used to play games, such as matching the right events to the right time of day, and spotting the activity that is out of place for that time of day.
#2 Counting Counts
We have always tried to have fun with numbers and Maths seems to be one of Biggest's strengths. We play counting games every day.
The great thing about learning to count is that almost anything can become a learning resource. All you need is containers and objects. If you want to add becoming familiar with the number symbols, you only need to add a Sharpie pen. You can used paper plates and cups, or any cups or pots and pans. You can use pebbles or leaves or Lego bricks – something to capture any child's imagination. Biggest has always loved small toy cars and so these have always been a favourite for counting games.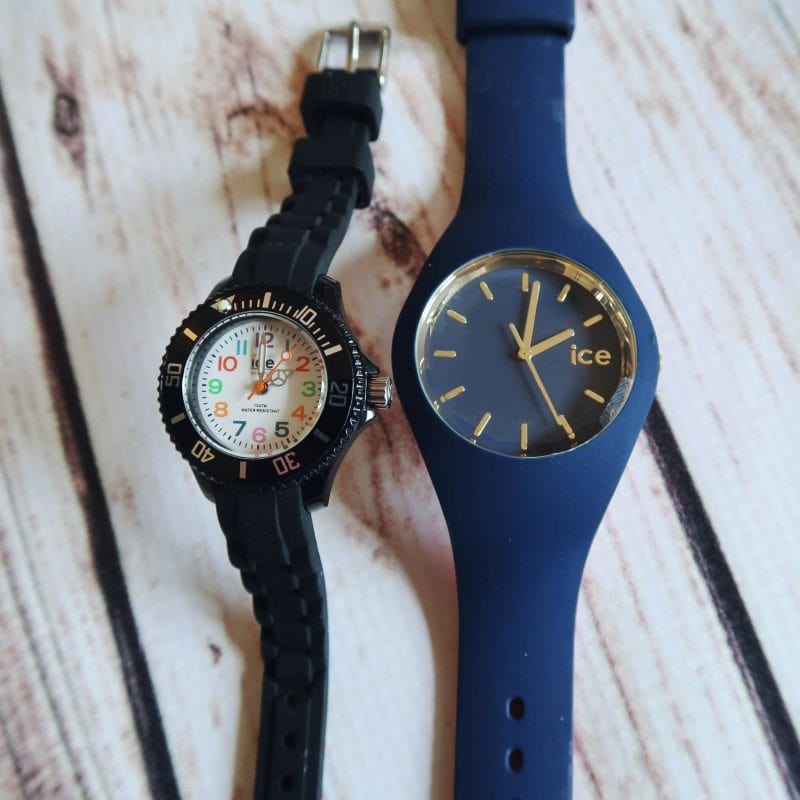 #3 Beginning with a Clock Face
These days, many clock faces are digital. Understanding the 24 hour clock and how it relates to the 12 hour clock is another skill that can be difficult to master. Personally, I feel that beginning with the traditional clock face is easier in the long-run, as it ensures that children understand that '1' can come after '12' on the circular face, and analogue clock faces make it easier to visualise, and subsequently understand, quarters and halves of whole hours.
A great way to start with this is to create a giant clock face. You can use crayons, pens or lolly sticks to make movable hands.
Once your child starts to recognise the numbers, they can start to tell you which 'o'clock' the clock is showing, and use the hour hand to pick times themselves. You can fix the big hand to point at 12 to begin. Then, your child becomes more practised, you can begin to move both hands and add 5 minute increments to begin teaching more than whole hours. Biggest is pretty good at identifying all the hours now, and so we are moving on to look at what 'half past' the hour means.
These tips are a good way to start children off with learning to tell the time. Do you have any tips for teaching children to tell the time?
Ice-Watch Timepieces
Biggest's Ice-Watch is the Ice Mini in Black. This watch is perfect for children aged 5-10. It has large, colourful numbers that make it easy to read. However, the watch is also looks quite grown-up, meaning it looks smart and should last. It also has really helpful numbers on the outside to help with 10 minute time slots, is made of durable silicone and is waterproof to 10 ATM.
My Ice-Watch is the Ice Loulou in Midnight and I love it. The silicone strap is surprisingly tactile and feels great on the skin. In addition, the Ice Loulou comes in two sizes and ten shades. They all have a touch of gold or glitter to set them apart.
We think Ice-Watch timepieces for kids make great first watches. We hope you find out tips for teaching children to tell the time useful.
This is a collaborative post. Ice-Watch kindly sent us some watches to feature on the blog and social media. This post also contains affiliate links.
---
For more tips for young children, you could check out:
Toddlers Gonna Toddle – Venturing Out Without the Pram
Or
Tips for an Autism Friendly Bedroom and Bedtime Routine