When I was nearly seven month pregnant with my son, I got a puncture just as my car was pulling off the motorway. The event itself was terrifying enough, as I struggled to keep control and slow the car safely – but the experience that came afterwards was almost as harrowing.
I was in shock, desperately worried about the little life inside me and the effect my stress, and the sudden stop, would have on him. I had managed to get off the slip road and I was now stranded in a queue of cars, in the inside lane of the feed to a four-lane roundabout. There was small piece of pavement, on the motorway bridge nearby, but there was no way I could move the car on my own and nowhere I could move to be truly safe. In short, I was overwhelmed with panic and desperately holding back the tears as I stood by the car, helpless. I phoned my car breakdown service, but they would be 30 minutes at least.
You might imagine that a visibly pregnant lady, on the side of a huge road and clearly in distress, might have provoked sympathy in the passing drivers. Eventually, it did, and a kind ambulance team helped me push my car to a safer area. I wish I could do more than just thank them, but I never knew their names.
However, before they helped me, I spent a very stressful twenty minutes. I was waiting by the side of the road on the edge of tears, frantic with worry about whether the baby was okay, while motorists honked and shouted at me from their windows. I had no spare. Eventually, a roadside assistance team arrived and they took me to a garage to have new tires fitted. It is an experience that will stay with me forever and one I would like to never repeat.
But if I had lost control of my car, my day could have been a lot worse.
If my car had been fitted with Bridgestone DriveGuards, the best drive flat tyres on the market, my day could have been a whole lot better.
Bridgestone DriveGaurd Event
On Thursday the 22nd of June I attended a brilliant event at Chateau Impney Hotel in Droitwich, hosted by Bridgestone. We got to take part in some really entertaining activities, including testing out how it feels to drive on DriveGuards. We tried driving both in normal circumstances and with a flat tire. It was a whole lot of fun!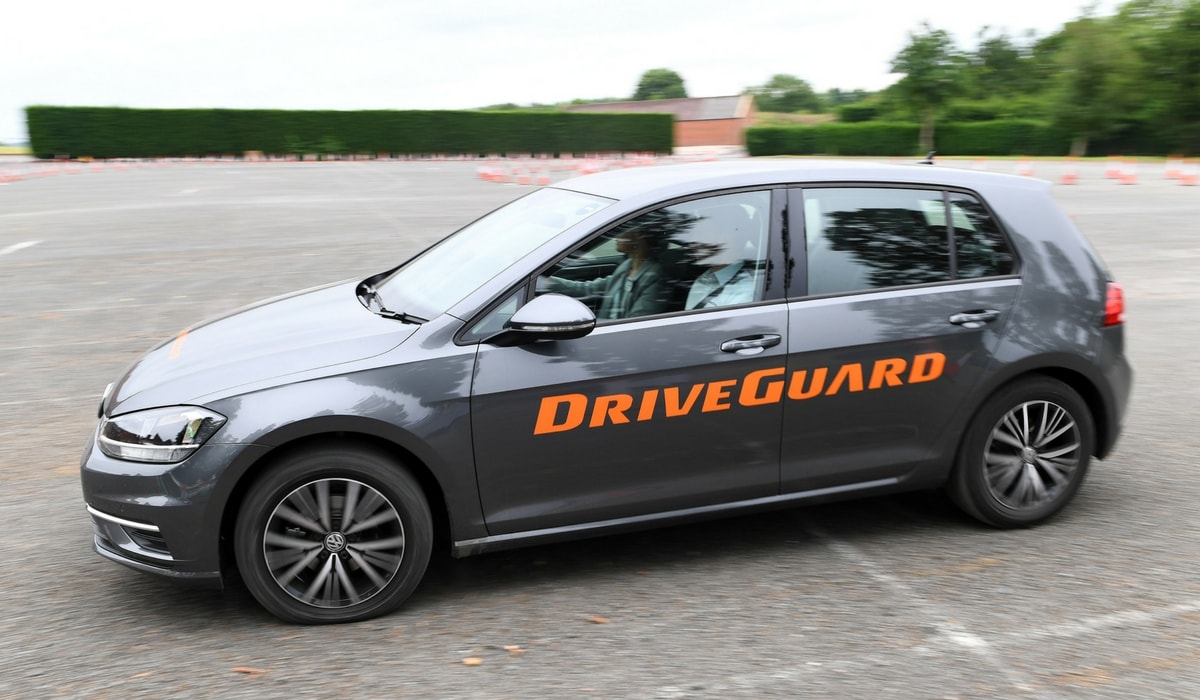 I am a naturally cautious driver, and driving in general causes me a great deal of anxiety. (This is one of the reasons I wish I had a car that is compatible with DriveGuard!) Never the less, I really enjoyed this activity. I could not tell the difference between driving a normal car and one with an entirely flat tire.
We also got to try some virtual reality headsets and see Bridgestone's test track in Italy.
We also got to see some of the brilliant work that Bridgestone are doing in their role as an Olympic Partners in their #nomatterwhat campaign, including amazing videos about chasing your dreams, like the one featuring Daley Thompson, below. Overall, it was a thoroughly enjoyable day and I was really impressed with Bridgestone and the DriveGuard tyres.
Bridgestone DriveGuard
Bridgestone DriveGuards are designed for passenger cars with a Tyre Pressure Monitoring System (TPMS). When the indicator on your dashboard lights up, you can safely continue driving for 50 miles at up to 50 mph. (Though this can vary a little depending on the road and load.) This is thanks to an innovative technology called a cooling fin. Bridgestone DriveGuard tyres redistribute heat and friction after a puncture. This means you can keep driving for a period, even after a complete loss of air pressure.
They are also classified as Wet Grip A in EU labelling, which is the highest wet grip performance. This could mean you could stop a lot sooner than other tyres during wet conditions.
Having tried them for myself, I can honestly say that I would not hesitate in making sure my car had a set of Bridgestone DriveGuards. They would provide me with huge peace of mind. As Biggest has autism, the last thing I could possibly do if I got a flat tyre would be to move him out of the car while we waited for assistance, or I tried to change a tyre. He has no danger awareness and it would be almost impossible to keep him safe while watching his smaller sister too.
Unfortunately, cars made before 2014 do not have the tyre pressure system, and my car is not compatible. I cannot afford a newer car yet but they are definitely on my wish list when I can.
Win a full set of Bridgestone DriveGuard Tyres for your Car
If you would like to win a set of 4 Bridgestone DriveGuard tyres, please enter via the Rafflecopter below. Entrants must be UK residents and are responsible for checking that their car is compatible. You can find out more about which cars can be fitted with Bridgestone DriveGuard tyres here.
Please see here, and in Rafflecopter for full terms and conditions. By entering this competition, an entrant is indicating his/her agreement to be bound by these terms and conditions.
Please note, this is a collaborative post. Bridgestone kindly hosted me at their blogging event and are providing the tyres for this competition.