Easter is just around the corner – supermarket shelves are stacked with chocolate, chick and egg themed crafts are plentiful, and soon the Easter bunny will be hiding eggs all over the country, ready for excited children to find them. We were lucky enough to be sent some of the Cadbury 2018 range to review. Therefore, we set up our egg hunt a little early to try out some of the tasty treats on offer. The Cadbury Easter range includes new products alongside all-time Cadbury favourites. It is now easier than ever to create your own magical Cadbury Easter Egg Hunt for your family and friends.
Our Cadbury Easter Egg Hunt
We headed of to Worcester Woods to set up our own Egg Hunt. The woods are one of our favourite places for a Sunday morning walk with the dog. However, we left her behind on this day as we could not guarantee to keep her away from the eggs. We were slightly dismayed to discover that a fun run was just ending as we were setting up our hunt. I can only apologise to the poor runners who were confronted with so much delicious chocolate as they struggled to make it to the finish line!
Cadbury Easter Range 2018
The Cadbury Easter range contains some mouth-watering items including:
EASTER EGG HUNT SUPER PACK: This convenient product makes putting on an Easter Egg Hunt easier than ever before! Inside you'll discover a range of Cadbury chocolate treats. For example, the packs includes, Cadbury Dairy Milk hollow eggs and Cadbury Dairy Milk bunnies. (RRP: £6.99)
MINI FILLED EASTER EGG SHARING BAGS: A perfect people pleaser, the Cadbury sharing bags are back with four tempting varieties. They include Cadbury Creme Egg, Cadbury Dairy Milk Daim, Cadbury Dairy Milk Oreo and Cadbury Dairy Milk.
There's a whole range of cracking treats in the Cadbury Easter 2018 range that are perfect for doing your own Easter Egg Hunts. We really enjoyed the Dairy Milk Oreo sharing bags – the whole family had so much fun hunting them down.
We were also sent some slightly bigger items that would make great Easter gifts. These included the giant Daim and Fruit and Nut Easter eggs (heaven!) and the smaller Easter egg and Peter Rabbit toy pack. This would make a great gift for a smaller child. The egg is not too large and the stuffed toy will last long past the time when all the chocolate has been scoffed!
Biggest was so excited to find so much chocolate. He was little disappointed that we said that he could not eat it all at once! His favourite were the mini-egg packs, as he was delighted to see how they "looked just like real eggs but are chocolate really."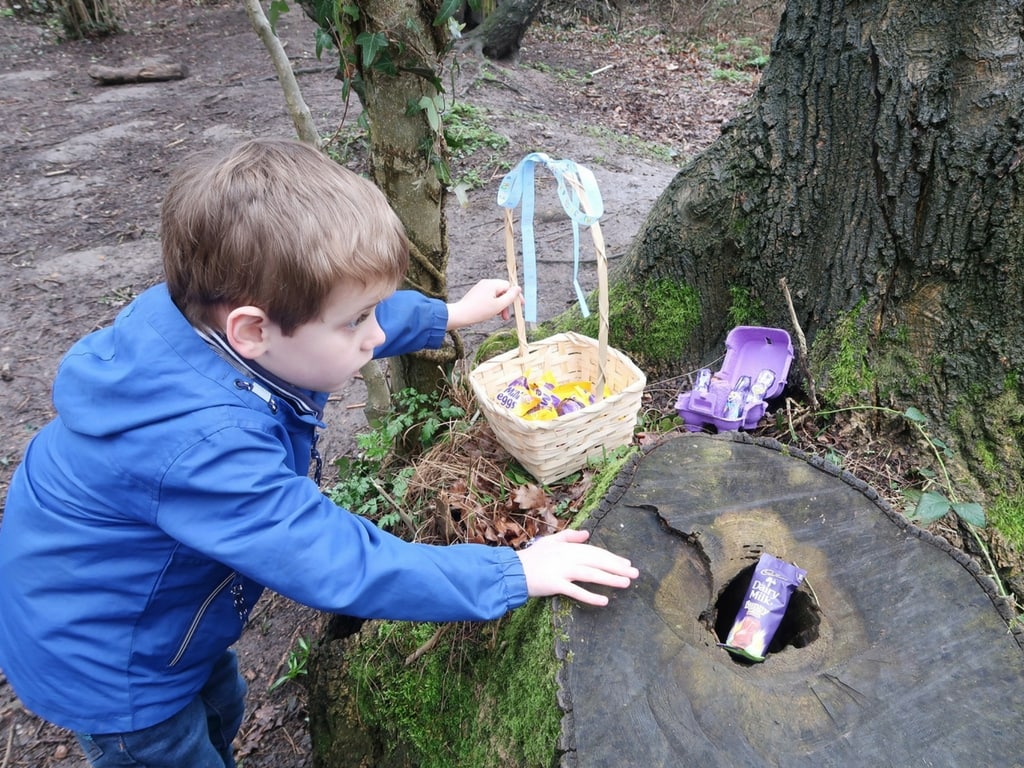 The Tale of the Great Bunny
Cadbury is a huge favourite with families across the UK. There is something suitable for all ages and for sharing amongst the family over Easter weekend. If you are looking for a great Easter activity to do this weekend, 'The Tale of the Great Easter Bunny is great way to get your children excited about an Egg Hunt.
Singer-songwriter and mum of two, Frankie Bridge, is getting ready to launch her debut storybook, 'The Tale of The Great Easter Bunny,' in partnership with Cadbury this Easter. The downloadable book is a re-adaptation of The Tale of the Great Bunny created by Cadbury 20 years ago. It encourages families across the nation to take part in their own magical Easter Egg Hunts.
The story is available to download free from the Cadbury website from Tuesday 13th March. It follows siblings Jack and Molly as they discover a series of mysterious clues and embark on an enchanting Easter Egg Hunt. The family don't know that there is a secret, hidden rabbit-hole at the bottom of their garden… where The Easter Bunny lives.
Cadbury Easter Egg Hunt
Cadbury have also partnered with The National Trust in order to provide some brilliant egg-hunting events at National Trust Sites all over the country. Can you crack the clues, and discover delicious Cadbury treats? You can find your nearest hunt here.
If you are planning an Easter Egg hunt this weekend, Cadbury Egg Hunt Super Packs are in shops now. They contain a selection of Cadbury Dairy Milk hollow eggs, Cadbury Mini Eggs and Cadbury Dairy Milk bunnies and should make egg-hunting a stress-free and delicious eggsperience for all.
---
Please note, this post is a paid collaboration with Cadbury.
For more Egg hunt inspiration, check out these posts:
Easter Egg Hunt for Teenagers – Mum in the Madhouse
Easter Egg Hunt Ideas with Free Printables – Emma and 3
How to do the Perfect Easter Egg Hunt – Mother's Always Right
Our Easter Egg Hunt with Cadbury Chocolates – Cuddle Fairy
Our Easter Egg Hunt – Nine to Three Thirty