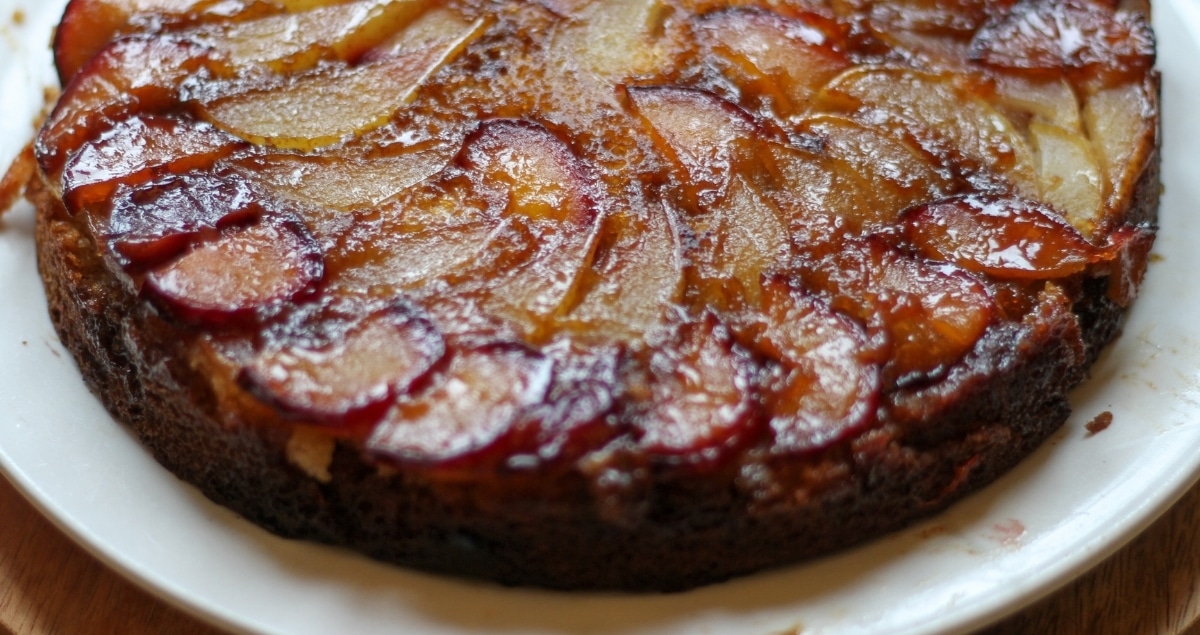 With autumn in full swing, comfort food becomes the ideal way to brighten up a rainy October afternoon. Our Spiced Plum and Pear Upside Down Cake is just the thing to add a bit of spice, warmth and cheer to a dreary day and it is very simple to make. You can use all pears or all plums if you prefer one fruit or if you cannot get hold of one type. Pears and Plums are in season during the end of summer and beginning of autumn.
Spiced Plum and Pear Upside Down Cake
Serves 8-12
Ingredients:
135g unsalted butter
55g dark brown muscovado sugar
Pinch of kosher salt
3-4 plums, stoned and cut into slice
2-3 dessert or very ripe pears, cored and cut into slices
1 tsp ground ginger
1 tsp ground cinnamon
200g golden caster sugar
1 large egg
1 tsp almond extract
150g plain flour
175ml milk
1 ½ tsp baking powder
Generous pinch of salt
Method:
Grease and line the base of a 20cm cake tin or ovenproof dish. If your cake tin is loose-bottomed, make sure your greaseproof paper is slightly larger than the base to give it an edge that can prevent the caramel from leaking out. Preheat the oven to 180°/160°fan.
In a heavy-bottomed pan, melt the 60g of the butter and the brown sugar together with a pinch of kosher salt over medium heat. Stir constantly and take it off the heat when it is all liquid and a lovely dark brown colour.
Next, pour the caramel into your prepared tin and then arrange the slices of pear and plum as you'd like. Remember, this design will be on top of your Plum and Pear Upside Down Cake. I put alternating circles of pear and plum, then add a second layer with contrasting fruit- pear on plum and plum on pear. Then, dust the layer of fruit with the cinnamon and ginger.
Cream together the remaining butter (75g) and the caster sugar until soft and creamy.
Beat in the egg, then the milk and almond essence, then fold in the flour, baking powder and salt.
Pour the batter carefully into the tin with the plums and pears in. Give it a few knocks to remove any gaps with air in.
Bake in the oven for 40 minutes (check after 35). It is done if a skewer or toothpick stuck into the middle of the cake (not all the way to the caramel and fruit) comes out clean.
Finally, serve the Spiced Plum and Pear Upside Down Cake warm, with a quenelle of Crème Fraiche and a drizzle of honey.
We hope you enjoyed this recipe for Spiced Plum and Pear Upside Down Cake. If you liked this recipe, why not check out these:
Strawberry Scones with Honey & Almonds with Thermomix®
Maple Leaf Spiced Cookies in Autumn Colours